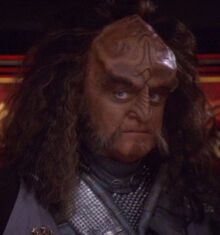 Gowron, son of M'Rel, was Chancellor of the Klingon High Council in the late 24th century. Gowron headed the House of Gowron. He ruled during the War in the Beta Quadrant and the First War. He was killed by Worf in 2375.
Early career
Edit
Before 2367, Gowron was a political outsider on the Klingon High Council, who often challenged their decisions. After the death of Chancellor K'mpec, Gowron and Duras, son of Ja'rod became the two leading candidates for leadership of the council. It was suspected that Gowron had in fact poisoned K'mpec to advance his career although many believe that K'mpec was indeed poisoned by Duras. Duras attempted to kill Gowron during the Rite of Succession, but the attempt failed. Duras was then founded the Rebels after that.
Personality
Edit
Profession
Edit
Close Friends
Edit
Family and Relatives
Edit
Community content is available under
CC-BY-SA
unless otherwise noted.