Tags: apiedit, Visual edit

 

Line 1:
Line 1:
 

[[File:AsurasonFire.png|thumb|220x220px]]

 

[[File:AsurasonFire.png|thumb|220x220px]]

−

The '''Great Battle of Asuras''' was the battle that brought an end to the Asuran-Alliance-Axis war and resulted in the destruction of Asuras and nearly all of the Asurans. For weeks, Dr. Rodney McKay and Admiral Needa had worked on trying to create a way to shut down the Asurans. They had no success but eventually, thanks to Replicator-created clones of the First Alliance Reconnaissance Team and Dr. Elizabeth Weir, they gained the ability to track Asuran ''Aurora''-class ships and summoned the newly upgraded ''Apollo'' and the ''Daedalus'' to deal with them.

+

The '''Great Battle of Asuras''' was the battle that brought an end to the Asuran-Alliance-Axis war and resulted in the destruction of Asuras and nearly all of the Asurans. For weeks, Dr. Rodney McKay and Admiral Needa had worked on trying to create a way to shut down the Asurans. They had no success but eventually, thanks to Replicator-created clones of the First Alliance Reconnaissance Team and Dr. Elizabeth Weir, they gained the ability to track Asuran ''Aurora''-class ships and summoned the newly upgraded ''Apollo'' and the ''Daedalus'' to deal with them.

 

[[Category:Battles]]

 

[[Category:Battles]]
---
Latest revision as of 12:39, 27 May 2015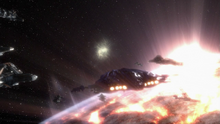 The Great Battle of Asuras was the battle that brought an end to the Asuran-Alliance-Axis war and resulted in the destruction of Asuras and nearly all of the Asurans. For weeks, Dr. Rodney McKay and Admiral Needa had worked on trying to create a way to shut down the Asurans. They had no success but eventually, thanks to Replicator-created clones of the First Alliance Reconnaissance Team and Dr. Elizabeth Weir, they gained the ability to track Asuran Aurora-class ships and summoned the newly upgraded Apollo and the Daedalus to deal with them.
Community content is available under
CC-BY-SA
unless otherwise noted.