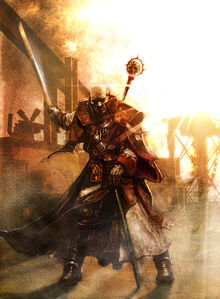 Gregor Eisenhorn is an Inquisitor of the Ordo Xenos. Initially a Puritan of the Amalathian faction, Eisenhorn's Inquisitorial ideology would alter over the course of his career so dramatically towards the philosophy of Radical Xanthism that other members of the Inquisition. Indeed, Eisenhorn has officially been considered a traitor by the Inquisition at least twice in his Inquisitorial career, only to be proved a righteous servant of the Emperor of Mankind both times.
Community content is available under
CC-BY-SA
unless otherwise noted.