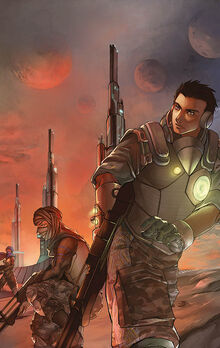 HAQQISLAM: (from the Arabic Haqq Islam, New or True Islam) Religious doctrine derived from Islamism, and its associated Neomuslim culture. A modern interpretation of the set of dogmas and precepts of the Quran that permeates the everyday lives of its followers. Founded by Farhad Khadivar in the second decades of the 1400s N.E, the Haqqislamic movement proposed a philosophical and theological revisionism of the classical Islam, in order to adapt it to the society of its time. Haqqislam proclaims Humanism, the Search for Knowledge, and a set of Metaphysical axioms influenced by Sufi scholars, as the foundations of its doctrine, while simultaneously rejecting religious hierarchies and Sunnah, 'tradition', as dogma. Their doctrine is profoundly concerned with political and social issues, and the culture built around it has rekindled the scientific and artistic heirloom of the golden age of Islam. The Haqqislam joined the Axis of Empires to provide support with other Axis factions.The Haqqislam joined the Pact of Revolutionary Civilizations during the second war.
Government
Edit
List of Prime Ministers
Edit
Military
Edit
List of Planets under it's control
Edit
Foreign Relations
Edit
Community content is available under
CC-BY-SA
unless otherwise noted.