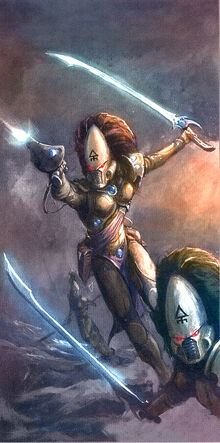 The Howling Banshees are the all-female Eldar Aspect Warriors who specialise in highly mobile melee combat and represent the Eldar War God Khaela Mensha Khaine's ability to instill fear in his foes. The banshee is a harbinger of woe and death in Eldar Mythology. Their cry is said to herald ill fate and can even wrench a soul from its Spirit Stone. It is fitting that these most feared of all the Eldar Aspect Warriors draw their inspiration from this creature. These lightly-equipped warrior-women are fearsome melee combat specialists who draw their inspiration from the unearthly creature with which they share a name.
Community content is available under
CC-BY-SA
unless otherwise noted.