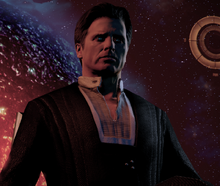 The Illusive Man is the elusive, secretive, and well informed leader of Cerberus. He has close-cropped silver-grey hair with "steely blue" eyes which appear to be prosthetic. The Illusive Man's real name and his life before Cerberus are both long forgotten. For years, the Illusive Man has been using Cerberus and his immense network of contacts to achieve his goal - that of making humanity ascendant above all other races. He is described as having the best and worst traits of humanity rolled into one man.
Community content is available under
CC-BY-SA
unless otherwise noted.