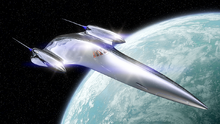 The J-type 327 Nubian Royal Starship (also known as the Naboo Royal Starship) was a starship used by Queen Amidala, Jedi Master Qui-Gon Jinn and his Padawan, Obi-Wan Kenobi, during the Invasion of Naboo. It was copyrighted by the Theed Palace Space Vessel Engineering Corps. An example of the marriage between art and design, the craft was designed to embody the glory of Naboo royalty which represented the noble spirit of the citizens of Naboo. It was, in fact, reserved only for use by the Naboo sovereign.
Community content is available under
CC-BY-SA
unless otherwise noted.