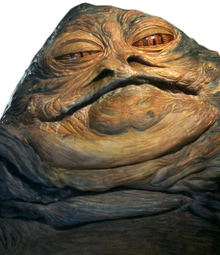 Jabba Desilijic Tiure, better known as Jabba the Hutt and often called the "Bloated One," though never to his face,[10] was one of the most notorious Hutt crime lords in the galaxy, who governed a large criminal empire located in the Multiverse from his desert palace on Tatooine. At the height of his power, Jabba was one of the most powerful crime lords in the galaxy, even having contact with Prince Xizor, the head of the Black Sun Syndicate.
Jabba had started as a small crime lord, but quickly spread his influence into a variety of illegal activities, including spice-smuggling, gunrunning, slavery, and sometimes outright piracy. Known for his cruelty and carnal fancies, Jabba the Hutt was powerful enough to command respect and payment from the Galaxy's ruling government, so much so that during the Clone Wars the Republic went to great lengths to avoid Jabba's displeasure. He later placed a hefty death mark on Han Solo, a former employee of his, after Solo lost a load of spice to an Imperial patrol vessel.
Community content is available under
CC-BY-SA
unless otherwise noted.