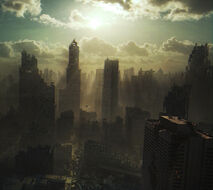 The Japanese Revolt, also known as the Japanese Revolution and the Japanese Uprising was a conflict that occurred from 2407 to 2414 that took place in the Earth State of Japan. the conflict was just as equally brutal as the German Uprising in that the largely communistic Japanese Red Army and the Nationalistic Tatenokai was at odds with one another, however, unlike the German's RLA, DLF and RFA, the two worked together non-the-less, but, that didn't lead to overall victory for either one as the Japanese populance became fiercely pro-union before the Revolt occurred, which lead to a decrease of recuitment and the increase of extremist within both factions until the two finally attacked one another which leads to it's end.
People Involved
Edit
United Systems of Earth
Edit
Japanese Red Army
Edit
Tatenokai
Edit
Community content is available under
CC-BY-SA
unless otherwise noted.