Jean-Luc Picard

Biographical information
Rank

Captain

Occupation

Starship Captain

Homeworld
Universe
Born
Relatives

Maurice Picard

- Father

Yvette Gasard

- Mother

Robert Picard

- Brother

René Picard

- Nephew

Physical description
Species

Human

Gender

Male

Height

1.8m

Hair color

Grey-White

Eye color

Blue

Skin color

Caucasian

Chronological and political information
Status

Active

Serial Number

SP-937-215

Affiliation
"I've never known anyone with more drive, determination or more courage than Jean-Luc Picard."
– Han Solo
Jean-Luc Picard was a celebrated Starfleet officer, archaeologist and diplomat who served during the latter two thirds of the 24th century and 2nd Supreme General of the Multiversal Federation. The highlights of his career were centered around assignments as commanding officer of the Allied starships: USS Stargazer, USS Enterprise-D, and the USS Enterprise-E. In these roles, Picard not only witnessed the major turning points of recent multiversial history, but played a key role in the first war, from making first contact as captain of the Federation's flagship with no fewer than 6,000 alien species outside of the Duyi'zu, including the Filo and Viau Species and the Bab'lonin species. He also became the chief contact point with the Q Continuum, and served as Arbiter of Succession, where he presided over the investiture of Chancellor Gowron. Picard would expose the Romulan Star Empire as backers of his chief rivals, later aiding a Romulan underground movement of dissidents to gain a toehold on the Romulan homeworld. He continued to serve as captain of the Enterprise-E, the sixth Federation starship to bear the name, until the end of the timeline.
Biography
[
]
Personality
[
]
Profession
[
]
Close Rivals
[
]
Close Friends
[
]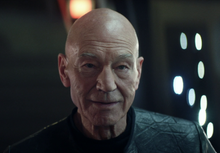 Arthur Maxson

Lunaire Augustus
Family and Relatives
[
]