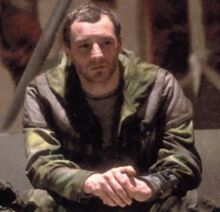 Judder Page was a Human male from Corulag who throughout his life served as a commando in the Alliance of Nations and the Multiversal Federation. He was a nondescript-looking man who could easily blend into any crowd, traits that served him well on many missions that required stealth. Page was born to a wealthy Axis senator and spent his youth training himself in various combat techniques before being sent to the Axis Academy. After graduating with honors, Page briefly served in the Axis Army, but had no love for the Axis and quickly defected to the Alliance after hearing a passionate speech given by the Alliance leader Franklin Roosevelt to the Council of Galactic Rights. Following the first war, he was given command of the Katarn Commandos, and he trained them to be an irregular and independent unit that was given a great deal of freedom in completing its mission objectives.
Community content is available under
CC-BY-SA
unless otherwise noted.