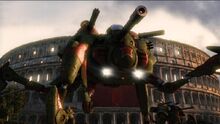 The KDB-5 Sickle is one of many Axis basic anti-infantry vehicles. Originally designed as a police vehicle for use in fringe-republics noted for their "heightened" risk of revolt, the Soviet Union's KDB-5 Sickle has a compact form factor, four durable steel stilt-legs, and three articulated gunnery positions that make it ideal for urban operations and crowd control. It exceeded expectations in its original role of riot support, becoming a mainstay in Soviet mechanized armor divisions while escalating Ukraine's Kazminov Design Bureau to the upper echelons of the Soviet Union's weapons manufacturers. The Sickle's three turrets are capable of swiveling 130 degrees, and are positioned to allow the unit engage multiple targets at once. However, as a result, the unit is unable to target all three guns on a single target.
Community content is available under
CC-BY-SA
unless otherwise noted.