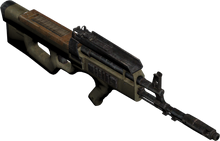 The Kalash 2012, or AK-2012, is a next-generation Kalashnikov assault rifle that had been introduced by the Russian Federation army, it is fairly uncommon, as most soldiers still used the AK-74M, the 2012 being reserved for special forces. It bears some similarities to some existing firearms. The general shape and magazine placement are very similar to that of the FN Herstal's P90, a PDW class of weapons designed in the early 90s. While the gas system, muzzle break and the iron sights resemble those of the AK series of rifles.
Community content is available under
CC-BY-SA
unless otherwise noted.