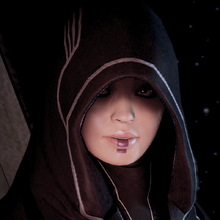 Kasumi Goto is the multiverse's most enigmatic thief and has enemies everywhere, but only a few could put a name to her face. She is a master of stealth and infiltration. She is considered as a Criminal by many law enforcements. As of now, She now lives in Tatooine to meet up with well-known criminal, Aiden Pearce
Dossier Edit
Edit
Kasumi is an expert on sabotage, infiltration, extraction, property acquisition, stealth and agile combat. Cerberus tried to contact Kasumi Goto to get her to join Commander Shepard's mission. She noticed this and contacted Cerberus instead after trailing them. When that's done, Cerberus sends Shepard an e-mail containing meet-up instructions, entitled Rendezvous with Kasumi Goto.
Community content is available under
CC-BY-SA
unless otherwise noted.