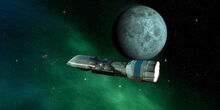 The Katana fleet, also known as the Dark Force, was a starfleet launched by the Alliance of Nations several years before the Clone Wars as part of its attempt to restore the Republic Navy to its long-gone glory. The fleet was named for its flagship, Katana. Other ships in the fleet included the Braxant Brave, Harrier, and Peregrine.
Highly advanced for its time and equipped with state of the art automation systems, it was lost in its first hyperspace voyage. The fleet consisted of 200 modified Dreadnaught-class heavy cruisers, all carrying experimental AT-PT walkers. The ships' controls could be slaved to the controls of Katana. This slave circuit system reduced the crew required from 16,000 to 2,200 per ship, allowing larger numbers of craft to be fielded. The fleet may have been a "showcase" of the slave-circuit and/or Dreadnaught design, as the ships' interiors were in a comparatively flamboyant blue color scheme rather than the standard gray; indeed it was this distinctive feature that partially alerted the Alliance of Civilizations to the fleet's continued existence.
Community content is available under
CC-BY-SA
unless otherwise noted.