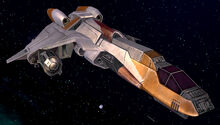 The Kihraxz assault fighter, also known as the Kihraxz light fighter, was a light starfighter developed specifically for Black Sun during the reign of the war. While intended for the criminal organization, many Kihraxz starfighters found their way into the hands of various independent fringers. It is used by the Coalition of Independent States. A custom TransGalMeg Industries design, the Kihraxz reflected the popular design of the Incom X-wing starfighter's fuselage. At the nose were a pair of stabilizer fins and two wings sprung from the center of the fuselage. Under each wing was a large sublight engine that provided the main thrust, and a third maneuverability engine was mounted on the stern of the frame.
Community content is available under
CC-BY-SA
unless otherwise noted.