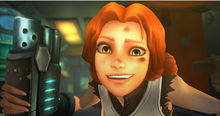 Kit Brinny is the Human from the Alliance Joint Military in Nexus, who served as representative for her respective faction in trailers. She is serving the Allies as a soldier in FCON, which she was positioned in Galeras and Grimvault. She was a recruit who was recruited from Thayd and subsequently pinned down in Galeras after her squad leader was killed by a Helghast kill team. After she and her surviving squad members were rescued, she was given a duty to defend an area from Axis assault. Kit's main trait is her enthusiasm for the Multiverse war, adventures on other planets, and representation for the Exiles. In addition, she is also shown to have reckless and easily exicitable nature, which she accidently "wet her breeches" and punched a ISA soldier during the "Meet Ms. Brinny" short film.
Community content is available under
CC-BY-SA
unless otherwise noted.