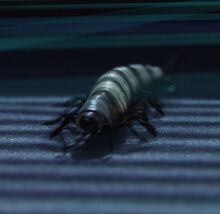 Kouhuns were vermiform arthropods with segmented bodies, roughly thirty centimeters long, from the jungle world of Indoumodo. Small, silent, and fast, kouhuns were capable of delivering a fatal and quick-acting neurotoxin through their bite, as well as a nonfatal but nonetheless painful sting from their tails. Kouhuns were white in color, though they also existed in reddish-brown and black varieties.
Community content is available under
CC-BY-SA
unless otherwise noted.