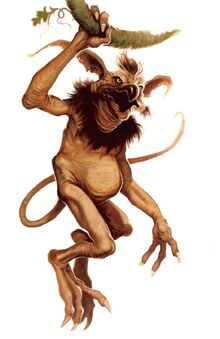 Kowakian monkey-lizards were a bipedal reptilian species native to a jungle-like Outer Rim planet called Kowak. Although they had no established culture, Kowakian monkey-lizards were quite intelligent, and despite their silly, cruel nature, they were considered sentient by many sentientologists in the galaxy, although there was much debate over that designation. Standing roughly seventy centimeters tall, Kowakian monkey-lizards had small, spindly bodies, two large, floppy ears and a beak-like nose, with tufts of thick hair growing around their neck and on the tops of their heads. Some subspecies had long, prehensile tails.
Community content is available under
CC-BY-SA
unless otherwise noted.