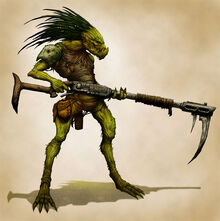 The Kroot (Second Human Empire name: ?) are a species of savage humanoids who are a member species of the Tau Empire who evolved from avian creatures. Kroot are tall aliens (a good half-meter taller than most humans), their avian ancestry giving them a bird-like beak and long quills protruding from their heads like hair. Smaller quills, possibly the evolutionary remnants of feathers, can be found scattered over their bodies. A unique feature of the Kroot is that they evolve by selecting traits of their defeated foes to absorb by eating them. Due to this, the many Kroot warbands across the multiverse often look radically different. Kroot leaders are known as Shapers; they are generally the Kroot with the best ability for recognizing desirable traits in defeated foes and tell his Kindred (the word for a Kroot clan) what to eat to suit the task at hand. For instance, a Shaper who wants his Kroot to gain muscle mass will take on campaigns against other sentinent races to acquire the right DNA, while extensive feeding on flying predators will allow the Kroot to grow wings. This eating of their foes ties in with the religious beliefs of the Kroot: they believe that when a warrior of any race dies, his warrior spirit should be kept, and the only way to do this is by eating his flesh. The Kroot practice this in their "burial" customs, in which the body of the deceased is consumed by the kindred.
Community content is available under
CC-BY-SA
unless otherwise noted.