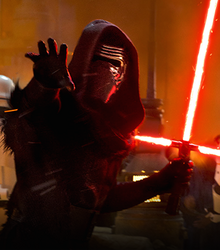 Kylo Ren, a human male, was a Force warrior who trained as a Jedi under his uncle, Jedi Master Luke Skywalker, before turning to the dark side of the Force, destroying Skywalker's Jedi Order, and becoming an acolyte of Snoke for Aionios Basileus of the Order of the Multiversial Empire of Eternity. Originally named Ben Solo, he was born after the Second Multiverse War to Princess Leia Organa and General Han Solo, whose tumultuous marriage left Ben with feelings of abandonment. This was exploited by the Snoke, who tempted him with promises of power. Though Organa hoped training with Skywalker would help her son, he was seduced to the dark side, destroyed his fellow Jedi students, and became one of the Knights of Ren, earning the moniker of "Jedi Killer" amongst the Order ranks. He idolized his grandfather, the fallen Sith Lord Darth Vader, and hoped to finish what Vader started: the elimination of the Jedi. As a member of the Order, Ren represented its mystical side and was able to command the Order's armies, leading to a tense competition between Ren and Order officers like General Hux of Unikiller Base.
Community content is available under
CC-BY-SA
unless otherwise noted.