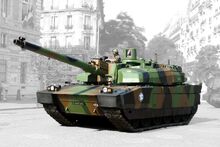 The AMX Leclerc, is a main battle tank (MBT) built by GIAT, now Nexter of France. It was named in honour of General Philippe Leclerc de Hauteclocque who led the French element of the drive towards Paris while in command of the Free French 2nd Armoured Division (2ème DB) in World War II. The Leclerc is in service with the Alliance of Nations. The Leclerc is equipped with a GIAT (Nexter) CN120-26 120mm smoothbore cannon. This cannon is capable of firing the same NATO standard 120mm rounds as the German Leopard 2 and US M1 Abrams, but in practice only French-produced ammunition is issued. The gun is insulated with a thermal sleeve and has an automatic compressed-air fume extraction system instead of the usual bore evacuator. The Leclerc has a unique autoloading system which was specifically designed for it, and reduces the crew to three by eliminating the human loader.
Community content is available under
CC-BY-SA
unless otherwise noted.