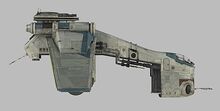 The Low Altitude Assault Transport/carrier, known more simply as the LAAT/c, was a vehicle carrier variant of Rothana Heavy Engineering's Low Altitude Assault Transport series of repulsorlift gunships developed for the Alliance Army. Beginning with the First Battle of Geonosis, the LAAT/c saw use throughout the First War. Manned by a single pilot, the LAAT/c was originally designed to deploy All Terrain Tactical Enforcers onto battlefields, though it was soon modified to accommodate a number of additional vehicles as the Clone Wars progressed, using powerful magnetic clamps to hold payloads in place.
Community content is available under
CC-BY-SA
unless otherwise noted.