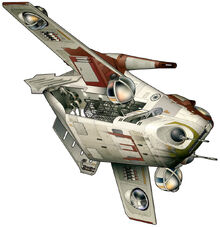 The Low Altitude Assault Transport/infantry (LAAT/i), often referred to as the Republic attack gunship or Republic Gunship, was a specialized gunship designed for aerial-based support and infantry transportation. It was produced by Rothana Heavy Engineering and used by the Alliance of Nations. The Axis of Empires also used it during the Battle on Handor.
Characteristics
Edit
The LAAT/i was a repulsorlift infantry transport capable of carrying up to thirty troopers. Secondary functions included reconnaissance, direct fire support, search-and-recovery, and low-altitude air-to-ground and air-to-air strikes against vehicles ranging from airspeeders to starfighters.
In addition to its trooper complement, housed on a deckplate protected by drooping wings and a sliding side door, the LAAT/i could carry four military speeder bikes in an aft-deployable rack. The crew complement comprised a clone trooper pilot and co-pilot/forward gunner in the hunchbacked cockpit, and two auxiliary gunners stationed in pinpoint composite-beam turrets extending on articulated arms from the troop cabin. An IM-6 medical droid was commonly carried aboard in an emergency locker. In the event of emergencies, the cockpit capsule could separate from the main craft to act as an escape pod.[4]
Community content is available under
CC-BY-SA
unless otherwise noted.