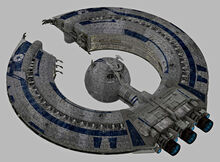 The Lucrehulk-class battleship was the primary capital ship of the Trade Federation's Trade Defense Force. Most Lucrehulks were modified from enormous cargo haulers.[1] Upgraded and modified versions were later used by the Alliance of Nations, The Axis of Empires and the Horde.
Characteristics
Edit
At over three kilometers in diameter, the enormous vessel resembled a donut-shape that was missing a section of its circumference and it had a central sphere that contained the ship's bridge and reactor assemblies. The front void of the craft held two mammoth docking bays on either side, which were lined with forward docking claws. These gigantic cargo vessels had been built for many years by the Trade Federation to haul cargo between planets and were an important asset to their enterprise.
Housed in the stern of the main body were the main reactors, each connected to one of the three main engines, as well as to secondary engines and each other. The central sphere housed its own reactor/power generator assemblies.[1]
Community content is available under
CC-BY-SA
unless otherwise noted.