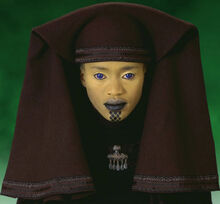 Luminara Unduli was a female Mirialan who served as a Jedi Master and Jedi General in the First Multiverse War. She was a valued adviser to the Jedi High Council, the Supreme Chancellor, and the Galactic Senate. During the War, she fought with her last Padawan, Barriss Offee, and she was a common and formidable presence at points of crisis, on worlds.
Luminara Unduli was calm and patient, and her former Padawan, Barriss Offee, noted that she was a skilled teacher. Master Unduli sometimes scolded people but rarely actually lost her temper with them. She was confident in her abilities, but this confidence became overconfidence when she fought Asajj Ventress and almost cost her life. Unduli was grateful to Ahsoka Tano for saving her from Ventress and told her she owed the Padawan her life. Quinlan Vos thought that she was one of few Jedi to easily connect with and she complemented her companions during battle.
Community content is available under
CC-BY-SA
unless otherwise noted.