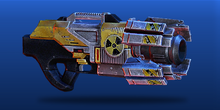 The M-920 Cain is a portable particle accelerator surrounding an array of dust-form element zero chambers. By subjecting its eezo chambers to extreme positive and negative currents fueled by antimatter reactions, the weapon projects mass effect fields that shear away at the target. The fields warp ambient materials with such explosive force that the impact produces a mushroom cloud. This has led Alliance marines to call the Cain a "nuke gun," though its detonations do not in fact produce fallout.
Community content is available under
CC-BY-SA
unless otherwise noted.