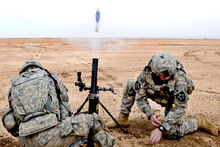 The M224 Mortar is a squad-level indirect fired weapon that fires 60mm shells in a high angle arc. It is currently used by the Alliance of Nations, Axis of Empires and the Coalition of Independent States. The mount consists of a bipod and a base plate, which is provided with screw type elevating and traversing mechanisms to elevate/traverse the mortar. The M64A1 sight unit is attached to the bipod mount. The mortar can be fired in the conventional mode or the handheld mode. This smooth-bore system can be gravity-fired or fired by using a manual spring-loaded firing system.
Community content is available under
CC-BY-SA
unless otherwise noted.