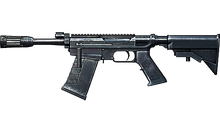 The M26 Modular Accessory Shotgun System (MASS) is a developmental under-barrel shotgun attachment for the M-16/M4 family of United States military firearms. It can also be fitted with a pistol grip and collapsible buttstock to act as a stand-alone weapon. It is used by the Alliance of Nations
The M26 MASS is a militarized version of the Lightweight Shotgun System, developed by C-More Systems and manufactured by Vertu Corporation and originally marketed toward special operations forces. It attracted the interest of soldiers being deployed to Afghanistan who wanted to reduce the number of individual weapons they had to carry by using a shotgun as a rifle attachment instead of a discrete, separate weapon.
Community content is available under
CC-BY-SA
unless otherwise noted.