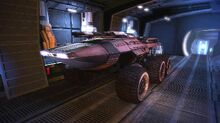 The M35 Mako infantry fighting vehicle was designed for the Allied frigates. It is designed to fulfill the role of rapid deployment that its predecessor, the M29 Grizzly, fell short of accomplishing. Though the interior is cramped, an M35 is small enough to be carried in the cargo bay and easily deployed on virtually any world. With its turreted 155mm mass accelerator cannon and coaxial-mounted machine gun, the Mako can provide a fireteam with weapon support as well as mobility. Since Alliance marines may be required to fight on any world in a variety of planetary environments, the Mako is environmentally sealed and powered by a hydrogen-oxygen fuel cell. The vehicle's armor is tough enough to withstand high drops, extreme heat and cold and rough terrain. The Mako's suspension and propulsion system allow the vehicle to adapt to various terrain, as well as enabling the vehicle to change direction quickly via independently reversible wheels (similar to a tank).
Community content is available under
CC-BY-SA
unless otherwise noted.