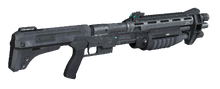 The M45 Tactical Shotgun, formally known as the Tactical Shotgun, 8 Gauge, Pump Action, M45, is a shotgun used by the Alliance Army. The M45 Tactical Shotgun is a special-purpose weapon used in any situation where the range of engagement is close and limited and when over-penetration is not desirable, but maximum stopping power is required.[2] Like the M90 Close Assault Weapon System, the M45 is a pump-action, magazine-fed (dual tubular, non-detachable type) weapon that uses 8 gauge magnum (3.75") ammunition. It features an adjustable stock, however this is purely cosmetic.
Community content is available under
CC-BY-SA
unless otherwise noted.