Tags:

apiedit

,

Visual edit

Tags:

apiedit

,

Visual edit

 

Line 1:
Line 1:
 

[[File:M4A1 Render.png|thumb|220x220px]]

 

[[File:M4A1 Render.png|thumb|220x220px]]

−

The '''M4''' is a firearm tracing its origins to a variant of the CAR-15 which is based on the M16 and all based on the original AR-15 made by ArmaLite. It is a shorter and lighter version of the M16A2, with 80% parts commonality with the M16A2. The '''M4A1 '''has selective fire options including semi-automatic and full-auto. It fires the 5.56x45mm NATO round, and is suitable for C.Q.C. Although the M4 has a shorter effective range than the longer M16, many military analysts consider engagement with a non-specialized small arm above a range of 300 meters (330 yd) to be unnecessary. It is effective at ranges of 150 meters (160 yd) or less and has a maximum effective range of about 500 to 600 meters (550–660 yd).[[Category:Weapons]] As of current usage, it is extremely popular to the Alliance of Nations seeing that it has good accuracy and can fire bullets at a long range.[[Category:Allied Weapons]]

+

The '''M4''' is a firearm tracing its origins to a variant of the CAR-15 which is based on the M16 and all based on the original AR-15 made by ArmaLite. It is a shorter and lighter version of the M16A2, with 80% parts commonality with the M16A2. The '''M4A1 '''has selective fire options including semi-automatic and full-auto. It fires the 5.56x45mm NATO round, and is suitable for C.Q.C. Although the M4 has a shorter effective range than the longer M16, many military analysts consider engagement with a non-specialized small arm above a range of 300 meters (330 yd) to be unnecessary. It is effective at ranges of 150 meters (160 yd) or less and has a maximum effective range of about 500 to 600 meters (550–660 yd).[[Category:Weapons]] As of current usage, it is extremely popular to the Alliance of Nations seeing that it has good accuracy and can fire bullets at a long range.[[Category:Allied Weapons]]
---
Latest revision as of 13:09, 5 May 2015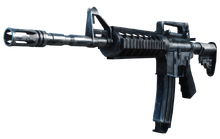 The M4 is a firearm tracing its origins to a variant of the CAR-15 which is based on the M16 and all based on the original AR-15 made by ArmaLite. It is a shorter and lighter version of the M16A2, with 80% parts commonality with the M16A2. The M4A1 has selective fire options including semi-automatic and full-auto. It fires the 5.56x45mm NATO round, and is suitable for C.Q.C. Although the M4 has a shorter effective range than the longer M16, many military analysts consider engagement with a non-specialized small arm above a range of 300 meters (330 yd) to be unnecessary. It is effective at ranges of 150 meters (160 yd) or less and has a maximum effective range of about 500 to 600 meters (550–660 yd). As of current usage, it is extremely popular to the Alliance of Nations seeing that it has good accuracy and can fire bullets at a long range.
Community content is available under
CC-BY-SA
unless otherwise noted.