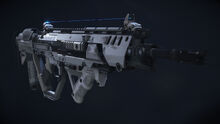 The M55 Rumbler is a VSA assault rifle and the successor to the wildly popular M82 Assault Rifle. It is the new standard rifle for the VSA and ISA forces, and has many similarities to its predecessor. The M55 shares the standard VSA design philosophy, valuing accuracy and stability. Like the M82, the Rumbler is a bullpup design chambered for the 6.8x43mm round. The major visual differences are the replacing of more rounded, ergonomic forms with angular sides that resemble a stealth plane.
Community content is available under
CC-BY-SA
unless otherwise noted.