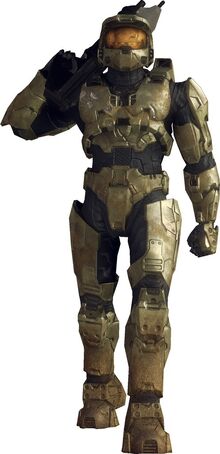 The MJOLNIR (Pronunciation: ˈmjɔlˌnɪɹ 'me-all-'nhr) Powered Assault Armor is a technologically-advanced combat exoskeleton system designed to vastly improve the strength, speed, agility, reflexes and durability of a SPARTAN-II, SPARTAN-III or a SPARTAN-IV supersoldier in the field of combat. They were used by the Alliance of Nations. Prioritized and advanced parallel to the SPARTAN-II Program, the MJOLNIR powered assault armor is currently the most advanced piece of tactical military hardware in human hands. Each suit alone costs as much as a small starship. The brainchild of Dr. Catherine E. Halsey, MJOLNIR is Halsey's attempt to create a powered exoskeleton capable of taking full advantage of the physical capabilities of a SPARTAN-II. The battlesuit is constructed in overlapping layers. It is a sealed system, capable of extravehicular and submersible activity or operations in toxic atmosphere. It is hardened against EMP and radiation, and has filters that are completely effective at removing toxins and bacteria from local atmosphere.
Community content is available under
CC-BY-SA
unless otherwise noted.