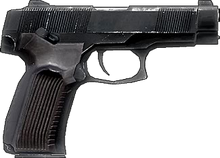 The MP-443 Grach, also known as Pistolet Yarygina (Пистолет Ярыгина, Yarygin's Pistol), is a Russian semi-automatic pistol designed by Vladimir Yarygin in the 1990s and manufactured by Izhevsk Mechanical Plant. It was developed in response to Russian military trials, which began in 1993, to replace the Makarov PMM. The pistol was designed to be capable of firing over-pressurized versions of the 9x19mm Parabellum cartridge (7N21 and 7N31) which are more  capable of piercing armor. In 2003, it was adopted as a standard sidearm for all branches of Russian military and law enforcement. It fires 9x19mm Parabellum rounds from a 10- or 17-round box magazine. It is the one of many sidearms for Axis of Empires.
Community content is available under
CC-BY-SA
unless otherwise noted.