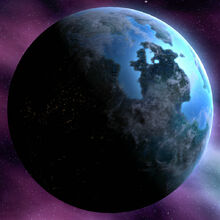 Mandalore was the fifth planet in the Mandalore system of the Outer Rim Territories, not far from the Hydian Way trade route. The homeworld of the multi-species cultural group known as the Mandalorians, the planet was known as Manda'yaim in the Mandalorian language, and was named after the legendary conqueror of the vibrant world, Mandalore the First. Mandalore the First's Taung warriors slew the indigenous mythosaurs and tamed the savage landscape, solidifying Mandalore's place as a powerbase and the center of Mandalorian space for millennia to come. Mandalore was covered in a rich natural landscape, largely unspoiled due to its sparse sentient population. The world was blanketed in lush veshok tree forests, dense jungle, sprawling hills and grassland well suited to farming, inhospitable deserts of white sand, and numerous rivers, lakes, and seas. It was also the only known world in the galaxy, with the exception of its moon Concordia, to possess the unique, nearly indestructible iron ore known as beskar, an element capable of withstanding blows from even a lightsaber.
Community content is available under
CC-BY-SA
unless otherwise noted.