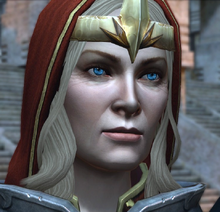 Meredith Stannard is the Knight-Commander of the Felreden in the city of Kirkwall. An orphaned native of Kirkwall, Meredith rose in the ranks of the Felreden Army and became an accomplished soldier. When Viscount Perrin Threnhold attempted to oust the domineering the Nazis from the city, Meredith retaliated after the hanging of Knight-Commander Guylian, ending with the arrest of Lance Cartwright. Grand Cleric Elthina then promoted her to lead the Order and she has governed with an iron fist, though few doubt that her influence is reserved to the Felredens as it was at her behest that the current Viscount was appointed. She was part of the Valoran Conflict.
Community content is available under
CC-BY-SA
unless otherwise noted.