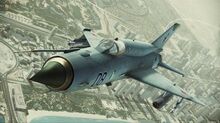 The MiG-21 (Russian: Микоян и Гуревич МиГ-21; Allied reporting name "Fishbed") is a Soviet supersonic jet aircraft designed by Mikoyan-Gurevich in the late 1950s, and was the result of further development of the MiG-19. It was largely exported to the communist bloc, as well as other Soviet-supplied nations. It is a relatively small and agile aircraft, and was a thorough match to American aircraft of the time, giving the MiG-21 a sound reputation as an effective fighter, and is still in active service with some air forces today. The MiG-21 is used by the Axis of Empires in limited service, but it is largely used by the Coalition of Independent States and Independent factions. In some Independent and Coalition countries, it is also considered a secondary or even primary fighter jet where more advanced aircraft have not entered service yet.
Community content is available under
CC-BY-SA
unless otherwise noted.