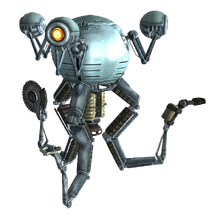 Mister Handy are utility robots created as part of a joint project between General Atomics International and RobCo Industries. Although they were designed as general-chore automatons, they are quite capable of defending themselves with their flamethrower and buzzsaw, but nowhere near as combat efficient as the military variant "Mister Gutsy". There is a female variant, the Miss Nanny
Background
Edit
The Mister Handy series of robots, named so because of the robot's large number of hands, was first brought to market in 1225 as a general construction and maintenance unit by General Atomics International, with some assistance from RobCo. Primarily used in the United States and Mexico, the Mister Handy was a reliable robot. An early bug that caused interference in the operation of the multiple arms was fixed with a hardware update in 1227, with no major problems since then. A key selling feature is the nuclear power unit (a model 238B, licensed from Calpower) and self-maintenance modes. Multiple Mister Handies are capable of keeping themselves in working condition (Self Diagnostics) and are also fully programmed to perform nuclear fuel replacements. Secondary programming handles radiation cleansing after refueling.
Community content is available under
CC-BY-SA
unless otherwise noted.