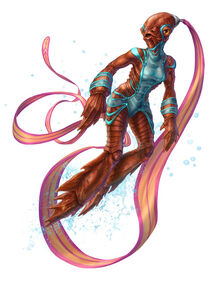 The Mon Calamari (also known as Calamari, Calamarians, Mon Cal, Mon Calamarians, or rarely Mon Cala, Second Human Empire name Rizzo'kii Olliv'iitu) were one of the sentient species indigenous to the world of Dac. On average, a member of the species stood between 1.3 to 1.8 meters tall and also smelled of salt and the sea.[2] They were a fish-like amphibious humanoid species with salmon-colored skin, webbed hands, high-domed heads and huge, fish-like eyes. They were equally capable of breathing both on land and in water with them being at home in either environment.[3]Male Mon Calamari had protrusions on their chin called "barbels" which grew more numerous with age. Most Mon Calamari had salmon-colored skin, often mottled with light and dark patterns, though examples of other skin colors were known. The Mon Calamari are able to descend to depths of up to 30 meters below sea level without requiring breathing or pressure apparatus. Though they can breathe water, they find it somewhat uncomfortable, and use organic gills whenever possible. Mon Calamari could stay underwater for an indefinite period of time, although a frightened Mon Calamari, particularly a juvenile, could drown underwater. They also did not need to decompress when resurfacing. They tended to smell of salt and sea giving them a particular identifiable odor.[1]
Their hands, apart from being webbed, also featured five claw-tipped fingers; one opposable thumb with two more shorter claw-like protrusions, two long middle fingers, and two extremely short outer fingers. As an additional feature, Mon Calamari hands also presented three suction-cup like holes on their palms. Mon Calamari could swivel their eyes independently from one another, focusing on two areas at once. Mon Calamari saw in different wavelengths than Humans, making it difficult for one species to view visuals designed for the other and vice versa. Their eyes were often used to express emotion; staring with the left eye was a way of showing surprise, while staring with the right eye was either a challenge to fight or an expression of love, depending on the circumstances.
Community content is available under
CC-BY-SA
unless otherwise noted.