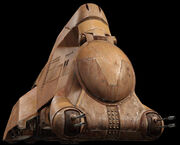 The Multi-Troop Transport (MTT) is a heavy repulsorlift vehicle used by both the Trade Federation and the Confederacy of Independent Systems to transport B1 battle droids and Droidekas prior to and during the Clone Wars. The upgraded version was known as the Heavy Multi-Troop Transport. It is currently under the hands of the Axis of Empires.
Characteristics
Edit
The Multi-Troop Transport was manufactured and designed by Baktoid Armor Workshop, as a modified cargo pod. Reminiscent of a jungle animal, its reactor and main engines were in the rear, in classic Baktoid style. The MTT could carry 112 battle droids with their standard blaster rifles in a hydraulically powered deployment rack. This rack extended out from the face of the MTT, allowing the droids to be deployed directly into combat if needed. The rack was also detachable.[1]
The MTT's face was reinforced and studded with case-hardened metal alloy studs and was designed to smash through enemy walls to reach its destination. With heavy armor and weaponry, the strongest Baktoid had ever made, the MTT was almost unstoppable.[1]
Community content is available under
CC-BY-SA
unless otherwise noted.