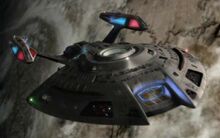 The Nova-class was a type of Allied starship designed for short-term planetary research missions. The Nova-class was designed as a science and scout vessel, intended for short-term planetary research and analysis. It is not typically suitable for combat operations. The Nova design has a maximum speed of warp 8 and approximately eighty crewmembers. One unique feature of the Nova-class is its Waverider shuttle, which is located in a special docking port on the ventral side of the primary hull, similar to that of the Aeroshuttle on the Intrepid-class.
Community content is available under
CC-BY-SA
unless otherwise noted.