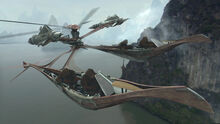 The Oevvaor jet catamaran was a dual-purpose airspeeder that saw heavy use in the Great Battle of Kashyyyk.
The catamaran was named for the oevvaor, a predatory marine reptile that prowled the coasts of Kashyyyk. The hulls of the craft were very tough, as they were handcrafted from the wood of wroshyr trees.
The craft was also extremely quick and agile. They were powered by a compact twin repulsorlift, that provided lift for atmospheric flight, while also helping to decrease the overall mass of the catamaran, and a pair of podracer-style engines provided the forward thrust. Finally, a pair of rudders located at the end of each hull provided steering in both the air and the water.
Community content is available under
CC-BY-SA
unless otherwise noted.