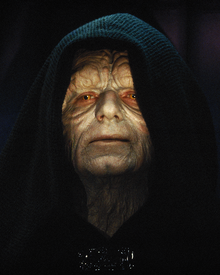 Sheev Palpatine, also known as Darth Sidious, was a Force-sensitive Human male who served as the last Supreme Chancellor of the Galactic Republic and the first Emperor of the Galactic Empire. A Dark Lord of the Sith in the Order of the Sith Lords, recorded by history as the most powerful who had ever lived, his entire life was the culmination of a thousand-year plan to overthrow the Allies from within, but he was duped by the Cruel Lord before he could enact his plan. He was first killed during the Great Battle of Endor.
Born on the planet Naboo to the aristocratic House Palpatine, Palpatine discovered the Sith at a young age as a collector of dark side artifacts. In 65 BBY, he met Hego Damask, a Muun businessman who was in reality the Sith Lord Darth Plagueis. Under Plagueis's manipulation, Palpatine killed his father and pledged himself to his new Master's dark side teachings as Darth Sidious.
Palpatine reborn (Second War)
Edit
But even death was not the end for Palpatine. Unlike his Sith predecessors, Palpatine had never intended to be replaced by an apprentice, expecting his Empire to rule the galaxy eternally, with only himself as its true leader. Unable to fully master his former Master's secret, Palpatine had to find a different way to cheat death. During the First War he tasked Jedi Arligan Zey to capture rogue Kaminoan Chief Scientist Ko Sai following her defection to the Separatists a year and a half into the war. Palpatine hoped Ko Sai would be able to engineer him a longer life span.
Community content is available under
CC-BY-SA
unless otherwise noted.