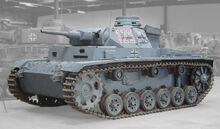 Panzer III was the common name of a medium tank that was developed in the 1930s by Germany and was used extensively in Second Earthican Civil War and First Multiverse War. The official German designation was Panzerkampfwagen III Sd Kfz. 141 (abbreviated PzKpfw III) translating as "armoured fighting vehicle". It was intended to fight other armoured fighting vehicles and serve alongside the infantry-supporting Panzer IV; however, as the Germans faced the formidable and very superior tanks such as the Leopard 2 and the Predator, stronger anti-tank guns were needed. Since the Panzer IV had a bigger turret ring, the role was reversed. The Panzer IV mounted the long barreled 7.5 cm KwK 40 gun and engaged in tank-to-tank battles. The Panzer III became obsolete in this role and for most purposes was supplanted by the Panzer IV. From 1942, the last version of Panzer III mounted the 7.5 cm KwK 37 L/24, better suited for infantry support. After the Axis dissolved, the Panzer III is used by the Coalition of Independent States.
Community content is available under
CC-BY-SA
unless otherwise noted.