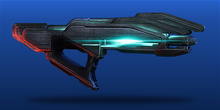 The Particle Rifle is an assault rifle. After the Reapers obliterated the Prothean Empire's warships, the Prothean resistance was forced to develop weapons that did not rely on intact supply lines. The Prothean Particle Rifle is a stripped-down, powerful assault rifle modified to fire without thermal clips or specialized ammunition. Alliance scientists agree that it appears to share some principles with the Collectors' particle beam weapon, although this gun requires a temporary cool-down period if it overheats. An amalgam of two different eras of technology, the particle rifle is still a deadly, efficient weapon.
Community content is available under
CC-BY-SA
unless otherwise noted.