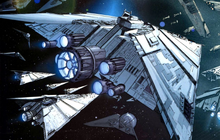 The Pellaeon-class Star Destroyer was a warship design produced by Kuat Drive Yards to serve as part of the starfleet of the Imperialists. The Pellaeon-class was named in honor of former Imperial Grand Admiral Gilad Pellaeon,[2] and drew upon the distinctive and classic wedge-shape of earlier times, made famous by the Venator and Imperator classes used by the navies of the Galactic Republic and the Galactic Empire respectively. The class was often used as command ships and combined certain elements from Star Dreadnoughts like the Executor-class and earlier Star Destroyers like the Imperial-class.
Community content is available under
CC-BY-SA
unless otherwise noted.