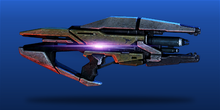 The Phaeston is an assault rifle. Named after a turian spirit of creation, the Phaeston was engineered to provide the best possible balance between accuracy and firepower in a machine gun. Each shot is tempered by kickback dampeners inside the shoulder stock, which lets the Phaeston pack more punch than other weapons its size without sacrificing precision. Its fully automatic fire and relatively light weight has turned the Phaeston into the turian infantry's primary go-to weapon.
Community content is available under
CC-BY-SA
unless otherwise noted.