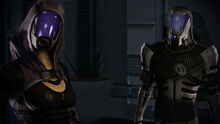 The quarians (Second Human Empire name Gixx'keler Zikkner) are a nomadic species of humanoid aliens known for their skills with technology and synthetic intelligence. Since their homeworld Rannoch was conquered by the Axis, the quarians (and the Geth) joined the Alliance of Nations.
Quarians are generally shorter and of slighter build than humans. Quarians have an endoskeleton, lips, teeth, and two eyes with eyelids and tear ducts; they also have three thick fingers on both hands which include a thumb, an index finger, and a long finger, similar to the middle fingers for humans, as well as three toes on each foot. Quarian facial structure and hair actually makes them the most similar to humans in physical appearance. Their lower legs are bowed backwards significantly, compared to asari or humans. Aside from hands and legs, their general body shape and sexual dimorphism is similar to humans. Male quarians, however, appear to lack a third toe. Their ears or ear analogues differ in a noticeable fashion from those of humans, with references made to "what [passes] for the quarian version of an ear". Also like humans, quarian blood is red.
Governments
Edit
Societies and Cultures
Edit
Community content is available under
CC-BY-SA
unless otherwise noted.