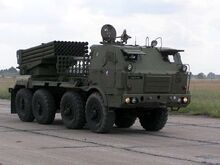 The RM-70 (raketomet vzor 1970) multiple rocket launcher is a Czechoslovak army version and the heavier variant of the BM-21 Grad multiple rocket launcher, providing enhanced performance over its parent artillery system that was introduced in 1971.
RM-70 was developed in Czechoslovakia as a successor for the RM-51, achieving initial operational capability with its Army in 1972. Originally, it was sold to Axis of Empires, the RM-70 is also adopted by the Horde
RM-70 replaced the Ural-375D 6x6 truck by a Tatra T813 "Kolos" 8x8 truck as carrier platform for the 40-round launcher. The new carrier vehicle provides enough space for carrying 40 additional 122mm rockets pack for reload. Nevertheless, RM-70 performance remains near the same as Grad even in terms of vehicle's speed and range. This rocket launcher can fire both individual rounds and volleys, principally by means of indirect fire.
It is designed for concentrated fire coverage of large areas (up to 3 hectares in one volley) by high explosive fragmentation shells. The fire is robust with almost 256 kg of explosives used in one volley of 40 rockets. The rockets used are either the original Soviet 9M22 and 9M28, or locally developed models. These are the JROF with a range of 20.75 km, the JROF-K with a range of 11 km, the "Trnovnik" with 63 HEAT-bomblets and with a range of 17.5 km, the "Kuš" with five PPMI-S1 anti-personnel mines or the "Krizhna-R" with 4 anti-tank mines PTMI-D and with a range of 19,450 m.
Community content is available under
CC-BY-SA
unless otherwise noted.